Help support conservation with the Save Vanishing Species stamp
The Save Vanishing Species stamp is now on sale at the U.S. Postal Service. The semipostal stamp is designed to raise money to help protect endangered wildlife, including tigers, rhinos and marine turtles.
The stamp features an Amur tiger cub and is the result of a 10-year effort begun and led by WWF, in partnership with the U.S. Fish and Wildlife Service, U.S. Postal Service and other international conservation organizations.
On September 19, 2014, President Obama signed the stamp reauthorization bill into law. The Multinational Species Conservation Funds Semipostal Stamp Reauthorization Act of 2013 passed in the House and Senate earlier this summer. The bill, championed in the Senate by Senators Rob Portman (R-Ohio) and Tom Udall (D-N.M.) and in the House by Representative Michael Grimm (R-N.Y.), is a result of true bipartisan leadership and persistent effort to ensure the stamp continues to support U.S. government programs that save vanishing species. The program has sold over 25 million stamps, raising over $2.5 million dollars
The stamp was initially made available for purchase from September 2011 through December 2013. The bill that President Obama signed last month makes it available for an additional four years, through 2017.
How can a stamp make a difference?
The stamp is important to WWF because all proceeds raised from the premium will go to the U.S. Fish and Wildlife Service's Multinational Species Conservation Funds, which support efforts to protect wild populations of tigers, rhinos, elephants, great apes and marine turtles.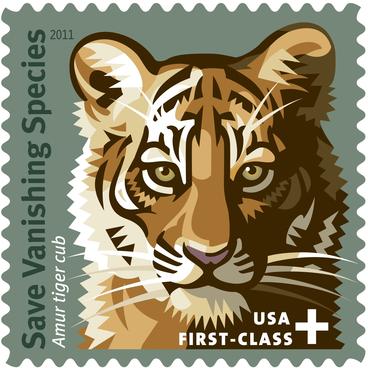 These efforts include:
work to help combat poaching
habitat protection
disease prevention
education for local communities about the value of conserving wildlife
Evolution of a stamp
The stamp was created by the Multinational Species Conservation Funds Semipostal Stamp Act, which passed Congress with overwhelming bipartisan support. WWF proposed the original idea in 2000 and played a major role in securing approval of the stamp, which went on sale beginning in 2011.
The stamp, which costs 60 cents, aims to generate millions of dollars for international wildlife conservation at a time when Congress is making deep funding cuts. These proceeds can't replace vital federal funds for international species conservation, but the stamp is a creative way to raise awareness and contribute to the protection of endangered wildlife.
"This is an easy way for individuals to use their purchasing power to help save vanishing species every time they mail a letter. By purchasing these stamps, anyone can play a direct role in protecting some of our most iconic and endangered wildlife."
Ginette Hemley
WWF Senior Vice President of Conservation Strategy and Science
https://www.worldwildlife.org/stories/a-stamp-to-protect-wildlife